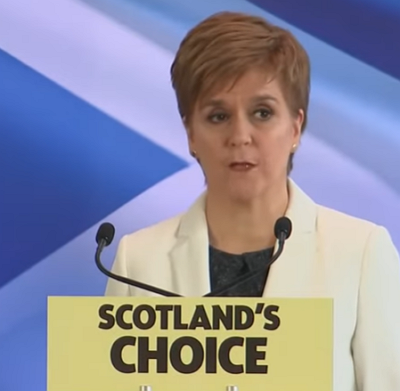 I am surprised Nicola Sturgeon, the Scottish Nationalist Party leader and First Minister of Scotland, has lasted for so long.  In 2016 I wrote about her horoscope, and I took the view that her career was coming to a close.  The basis for my analysis was her Vedic horoscope.  She was born on July 19 1970, at 3.16 pm in Irvine, Scotland.  Here's her chart: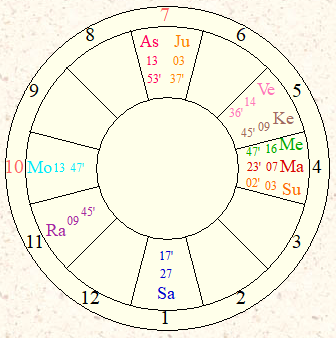 If you're not used to Vedic astrology, the chart may be difficult to read. The numbers relate to the sidereal signs, and the houses run anti-clockwise from the Ascendant.  One of the key things to note is that she has Saturn in sidereal Aries in the Seventh House.  Although Saturn in the Seventh is seen as having dik bala, or directional strength, it is in Aries, the sign of its fall.  It is also worth noting that Saturn makes a full aspect to Sturgeon's Moon in sideral Capricon, because Saturn aspects the tenth sign from itself.
We can see Saturn an an accident waiting to happen.  The moment it manifests, Nicola Sturgeon is in trouble.  These are her current dasas and sub-dasas:
Her Saturn dasa started on September 14 2018, if one takes a 365.25 day year.  The previous 16 years, from September 14 2002, were covered by Jupiter.  Her Jupiter is fortunate, being in the First House, but with the switch to the Saturn dasa one would expect things to deteriorate.  Clearly this is not what happened.  She maintained her position as First Minister of Scotland, and her party, the SNP, did very well in the December 12 2019 General Election.
So how does one explain Nicola Sturgeon's continued success?  One might argue that things are not going well.  As a government, the SNP is racking up debt, and schools in Scotland are falling down international league tables in terms of reading, maths and science.  There is also a view that the effects of a new dasa don't fully manifest until the start of the second sub-dasa, which in Nicola Sturgeon's case is the Mercury sub-dasa of Saturn, which starts on September 17 2021.  Finally, we have to consider the possibility that Nicola Sturgeon is a creature of higher, collective forces, which can over-ride her horoscope, at least in the short term.
However, I do think that Nicola Sturgeon's luck is running out.  Not only is she in her Saturn dasa, but she has sade sati.  This represents over seven years of bad luck, at least theoretically.  This condition is not unusual, and it happens when Saturn is transitting the sidereal Moon sign, and the two signs either side.  Sturgeon's second cycle sade sati dates are as follows:

The broad period from January 2017 though to March 2025 is covered by sade sati.  Yet the problem is at its maximum when Saturn is in sidereal Capriorn, from January 24 2020 through to January 17 2023.  Not only is Saturn in the same sign as the Moon, but it is opposition her Sun, Mercury and Mars in Cancer.
And already, some cracks are forming.  Last Autumn the SNP made the mistake of supporting Boris Johnson's call for an election.  While this election allowed the SNP to increase its number of MPs, it gave Boris a massive victory, which allowed him to push through Brexit.  Furthermore, on election night, as the results started coming in, Nicola Sturgeon had a moment of utter hubris.  You can see the picture:
She was celebrating the fact the Jo Swinson, the leader of the Liberal Democrats, had lost her seat to an SNP challenger.  Sturgeon's reaction struck me as not just exubriant, but also crude.  Nicola knew she was on live TV, but she just couldn't help herself.  People who behave like this in public are  courting bad luck, especially if their astrological trends are moving from bad to worse.
January 24 2020 was the date when Saturn moved into sideral Capricorn.  Soon after, on February 6, Scotland's Finance Minister, Derek Mackay, resigned.  This happened because it was revealed that he had been sending inappropriate messages to a 16-year old boy.  Mackay's resignation was a blow to Sturgeon, not least because he was touted as her potential successor as SNP leader.  But Derek Mackay's resignation may only be the entrée.  Alex Salmond, Nicola Surgeon's predecessor as SNP leader, goes to court next month, charged with a number of sexual offences.  It is unlikely to be good publicity for the SNP and its leader.
When you  become a senior politician, the person and the collective get mixed up.  To an extent your destiny becomes tied with the wider whole.  Scotland and the SNP's future is linked up with Nicola Sturgeon's horoscope, and the problems that she personally has with Saturn are likely to be projected onto her party and her country.  If you're a Scottish Nationalist and you believe in astrology, you would want her to resign her political positions as soon as possible.
Charts and tables created with Parashara's Light 7.03.