April 2022 kicks off with a New Moon, on April 1, at 7.24 am London time. Here's the chart, set for London:

The New Moon is making a square to the Hades-Kronos midpoint, in Cancer. Hades and Kronos are slow-moving, hypothetical planets. Hades relates to death, as well as elimination and criminality. Kronos is government, authority and the power of the state.
It's a time when governments will be doing bad things – working behind closed doors and getting rid of their enemies. I am not just thinking about Russia – the United States, the United Kingdom and Ukraine have the same propensity for evil.
Witte and Lefeldt, in Rules for Planetary Pictures, wrote the following about the Hades-Kronos pair: "Great baseness and meanness, poverty or want. Poor government. The basic formula  for a criminal on a big scale". This is what the New Moon brings into being. Terrible behaviour, with governments being the ultimate crooks.
An important feature of the New Moon chart is a conjunction between Mars and Saturn. Set for London, the conjunction isn't prominent. We would have to go further east for the conjunction to be on the meridian. We then find that Moscow has the Mars-Saturn midpoint on the Midheaven. If we run the lines down (Mars on the left, Saturn on the right), we come to Eastern Ukraine:
We already know that the Russians are changing their military strategy and are now focusing on this area, specifically the Donbas. Kiev, the capital of Ukraine, is off the Mars and Saturn lines. In the Mariupol New Moon chart the Midheaven is only three arcminutes from the conjunction with the Mars-Saturn midpoint.
In Rules, we read that the Midheaven on the Mars-Saturn midpoint represents "Grief. To suffer from separations or separating actions. Decease. Cause of death. Dying. Deaths of others that make a deep impression upon the mind of the native. One's own death".  So it does seem, in early April, that the situation is far from perfect.
We should also cast an eye over China and Taiwan – where Mars and Saturn are setting, at the time of the New Moon. Here's the map, showing Taiwan constricted by the two lines: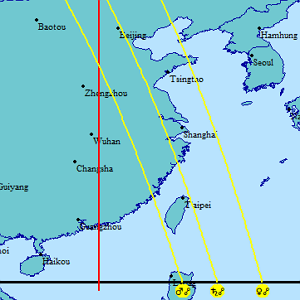 In addition, early April sees the Nodal axis square both Mars and Saturn. This is more of the same… connections with other people have a deathly quality. It's more appropriate to go to a funeral than a wedding.
But don't worry, things can always get worse.